Archive
February 2000
---
UNION At Pleasures Show Info
Here is the information for UNION's March 11th Pleasures date. Pleasures is located at 3570 E. Foothill Blvd, Pasadena, 91107. Phone number is 626-795-1259 and the band will play at 11:00PM.
UNION Tour Dates Added
More UNION Tour Dates have been added to the tour itinerary. Click to the Tour Dates page for all the details!
UNION Live At Coconut Teasers - Blue Room Release Party
Bob Lopinski has once again sent in some great live photos of UNION. His latest batch of photos are from UNION's recent Blue Room Release Party at Coconut Teasers. Click Here to view the photos!
Bruce Kulick Interview
After several hit albums with the legendary hard rock band KISS, guitarist Bruce Kulick found himself looking for new horizins when the original lineup reformed in the mid '90s. Soon, he hooked up with ex-Scream/Motley Crue throat John Corabi and formed Union. Union blends timeless, layered melodies and moody rock music that demands the attention of the intellectual side of the rock fan. Their latest album, The Blue Room, will be released by Spitfire Records. - ElectricBasement.com
Click Here To Read The Interview!
"The Blue Room" Album Lyrics
Lots of UNION fans have been requesting the lyrics from The Blue Room album. Lyrics for "Dear Friend" are up now with more to be added shortly. Click To UNION Asylum Reference section to view the lyrics
New UNION Tour Date Information
Here is the latest information on a few of the UNION tour datest.

3/16 Brick By Brick - 1130 Buenos Avenue, San Diego, CA 92110 - (619) 276-3993. Doors:8pm, UNION:11pm. Tickets are $8/$10 day of show. The club is 21 years +.
3/17 The Shack - 1160 N. Kraemer Blvd., Anaheim, CA 90620 - (714) 630-0121. Doors: 7pm, UNION: 12 midnight. Tickets are $12./$13. day of show. The club is 21 years +.
3/19 The House of Sound - 302 E. Beale Street, Kingman, AZ 86401 - (520) 753-7472. Doors: 8pm, UNION: 11pm. Tickets are $8. and the age is TBA.

UNION's "The Blue Room" Album Released Today!
UNION fans the day has arrived, UNION's second studio album "The Blue Room" is officially out in stores today. If for any reason your store does not carry "The Blue Room" you can currently order it online at CDnow.com. If you have not heard UNION's latest album you can preview the entire album here at UNION Asylum by clicking to the UNION Asylum Multimedia/Audio section. UNION wants to hear your thoughts on the album so don't forget to participate in the UNION Asylum "favorite song" poll, contribute your track by track reviews on the album at UNION Asylum Views and post up your comments about it all on the UNION Asylum Bulletin Board.

An Interview with John Corabi & Bruce Kulick
Webster's defines "union" as "a grouping together for some specific purpose." In the case of John Corabi and Bruce Kulick, that purpose is simple: to rock, and rock hard. Prominent figures in the music world--Corabi replaced Vince Neil in Motley Crue; Kulick was in Kiss for over a decade--the two faced high expectations when they joined forces as Union in 1997. Their self-titled 1998 debut was packed with the same raw power of the '94 Crue album and '90s pre-reunion Kiss material, with Kulick's monster riffs and effortless soloing providing a perfect musical foil for Corabi's poignant lyrics and raspy vocals. The album won more than a fair share of converts to the Union creed, but the band is ready to take control once and for all thanks to THE BLUE ROOM, a superb collection combining Beatle-esque harmonies with power pop a la Cheap Trick that's driven home with a sharp hard rock edge. In fact, it seems as if Corabi and Kulick are asserting loud and clear that this Union is a powerful force to be reckoned with. - Clay Marshall, Detritus Magazine, January 2000
Click Here To Read The Entire Review!

Your Album Reviews on "The Blue Room"
Poll: Favorite Song From "The Blue Room"
UNION's new album, "The Blue Room" has been officially released and the band's website wants to get your thoughts on the album! You can click over to the UNION Asylum Views section to "The Blue Room Album Reviews" page and submit your track by track review of the album or you can post up your short comments about it on the UNION Asylum bulletin board. Also, the website has a new poll up asking the fans what your favorite song is off of "The Blue Room." Click over to the UNION Asylum News page and make your voice heard in participating in our latest website poll. http://www.unionasylum.com/poll/

Bruce Kulick's Guitar Returned
Bruce Kulick informed UNION Asylum that his red ESP guitar that was stolen at last week's Indy Expo has been returned to him. Bruce found the guitar waiting for him with the rest of his mail, returned anonymously, safe and sound in the same case in which it was stolen. Naturally, Bruce is thrilled to have the guitar back. To whoever sent it, thanks for doing the right thing.

Latest UNION Tour Dates
The latest UNION tour dates have been released. Information on ticket prices and times will be available shortly. All dates are subject to change so please continue to check UNION Asylum for the latest up to date UNION tour information.

03/17/00 Anaheim CA Shack
03/22/00 Amarillo TX Dodge City
03/23/00 Lubbock TX Liquid 2000
03/25/00 Dallas TX Canyon Club
04/07/00 Detroit MI Harpo's
04/16/00 Columbus OH Al Rosa Villa
04/19/00 Erie PA Sherlock's
04/20/00 Bayside NY VooDoo Lounge
04/21/00 West Warwick RI Station
04/22/00 Worcester MA Lucky Dog
04/27/00 Allentown PA Crocodile Rock
04/28/00 Port Jefferson NY Village Pub
04/29/00 Old Bridge NJ Birch Hill
Click Here To View The UNION Tour Dates Page

Ex-KISS, Crue Members Do Their Own Thing On New Set
LOS ANGELES -- With its sophomore effort "The Blue Room," Union appears ready to kiss the past goodbye. Though led by marquee hard-rock names -- former Motley Crue vocalist John Corabi and ex-KISS guitarist Bruce Kulick -- Union wants "The Blue Room," due February 22nd on Spitfire Records, to portray the changes the band has undergone since its 1998 self-titled debut. "I think it was important [to prove] that we're not a [side] project, as much as John and I got a lot of attention for being 'former members of,' " Kulick says. To that end, Corabi adds, Union took extra steps to "sound more cohesive and more like a band" by enlisting producer Bob Marlette, who Corabi believes provided a positive influence in the studio. -- Billboard Online / Feature Artist Of The Day - February 17, 2000
Click Here To Read The Full Article!

A Message of Bruce
Our first promo trip for UNION together on the road was a very big success. CBGB's was packed, at 7:30 PM no less, to hear our set. The Spitfire party was lots of fun afterwards, and all the press the band did was very well received, from radio stations to internet sites like MTV online, etc.

The two radio shows in Hartford and Binghamton, were amazing. In Hartford we actually turned away people! And Binghamton might have been cold (13 degrees!), but the crowd was very hot indeed! INDY Expo 2000 was a huge success.... of course my guitar getting ripped off was a drag, but what a great turn out for UNION and the dealers.

Thanks to everyone who helped, to everyone who supported, and remember to keep an eye on UnionAsylum.com for info on our upcoming tour and other great news surrounding the "Blue Room". See you all soon!!

"Do Your Own Thing" Radio Numbers
Thanks to everyone's help in the Do Your Own Thing Radio Campaign, the word is getting out the new single! Spitfire Records sent UNION Asylum the latest UNION "Do Your Own Thing" radio numbers:
Union Numbers:

3 adds this week: KNCN, KEZO and KZOZ
Album Network Powercuts: #60 to #59 515 to 601 spins
Album Network Rock Chart: #36 to #33 389 to 440 spins
#14 most requested with 6 stations
R n R Rock Chart: #45 to #39 156 to 171 spins
Metal Numbers:

Album Network Aggro: #26 to #20
FMQB: #30 to #21 115 to 141 spins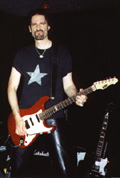 More Info On Bruce Kulick's Stolen Guitar
The guitar Bruce had stolen at the Indy KISS Expo on February 13th was an ESP Vintage Plus Stat with Floyd Rose tremolo, three pickups (two Duncans and one Dimarzio) with straplocks, and a special D Tuna addition to the Floyd. It is red see thru color with swamp ash wood body and has a rosewood finger board neck [guitar pictured to the right]. The guitar had two leather straps in the case, which is a brown flight case with a pad lock on it. The serial number is 17666. Please email beth@kulick.net if you have any information or leads about this guitar. A reward will be provided for information leading to the return/recovery of Bruce's guitar.
Bruce Kulick Guitar Stolen
Bruce Kulick fell victim to theft yesterday, when his red ESP guitar was stolen from the KISS Expo in Indianapolis, Indiana, where he appeared with UNION. Anyone with information about the missing instrument is urged to contact beth@kulick.net if you have any information or leads. A reward will be provided for information leading to the return/recovery of Bruce's guitar.
Former KISS Guitarist Wants On Farewell Tour
Launch.com - The forthcoming KISS farewell tour will be a huge event, especially if Ted Nugent and Skid Row sign on as the opening acts. Although an "official" announcement hasn't been made, many people - including UNION and former KISS guitarist Bruce Kulick - seem to think that it was a good run for New York's masked men. "We all know farewell never always means farewell," he said. "Both David Bowie and Ozzy (Osbourne) have proven that. I certainly think that this would be a really nice way to hype this tour to make people go 'Look, we're all going to go our separate ways - maybe forever, maybe not.'" Kulick also added that he would like for his band UNION to be one of the opening acts on the KISS farewell tour. Kulick was in KISS for 11 years, from 1984 to 1995, and is on seven of the band's studio albums - - eight if you count his contributions to international versions of 1998's "Psycho Circus." Kulick joined forces with former Motley Crue frontman John Corabi for UNION and has completed two studio albums with the band. The second album, "The Blue Room," is scheduled for release Feb. 22.
Bruce & John AOL Chat Details
The Bruce & John AOL chat will take place February 23rd at 8pm EST, keyword "Rock Chat."
UNION Asylum's "Blue Room" Contest
In conjunction with UNION and Spitfire Records, UNION Asylum is honored to host this contest to promote the impending release of UNION's album "The Blue Room" on February 22, 2000. The strong support of UNION by all the online fans has been an invaluable part of UNION's growth and continually expanding success. To say "thank you" to all the online UNION fans, Spitfire and the band have made a ton of great cd prizes available for all the winners of this contest! There are over 30 "Blue Room" prizes to be won in this contest. The prizes include copies of the promotional cd single of the "Blue Room's" first single "Do Your Own Thing", as well as advance/promotional copies of the full "Blue Room" album. Both of these cd's are limted number pressings that were distributed only to people in the radio and music industry -- very hard to find, highly collectible items! Click Here For More Information On How You Can Enter The Contest!
Win An Autographed ESP Guitar From UNION!
Spitfire Records & UNION Asylum are proud to announce another great contest for all UNION fans. All you have to do to enter is fill out and send Spitfire Records the entry card found inside the UNION "Blue Room" cd. All enteries must be posted marked by May 22, 2000 to be eligible for the random drawing. The winner of the random drawing will recieve an ESP guitar autographed by the entire band! 50 fans will also win autograph 8x10's and guitar picks. Don't miss out on this awesome contest - be sure to pick up a copy (or two!) of UNION's "Blue Room" as soon as it's released February 22nd and send in your entry!
"Do Your Own Thing" Radio Numbers
"Do Your Own Thing" is hot! Spitfire Records sent UNION Asylum the latest UNION "Do Your Own Thing" radio numbers:
Rock Radio Numbers:

R n R (rock) - #48 to #45, 156 spins +35, 17 stations / 2 adds (WYBB & WZZO)
Album Network (Powercuts) - #73 to #60, 400 to 515 spins
Album Network (Rock) - #47 to #36, 287 to 389 spins
FMQB (Hot Trax 100) - #58 to #53, 499 spins
FMQB (25 -44) - #38 to #34, 346 spins
4 new Adds this week (WYBB, WZZO, WIRX, KZZE)
Metal Radio Numbers:

#2 most added last week
Album Network - #28 to #26, 99 to 115 spins
FMQB - #28 to #30, 128 to 115 spins

UNION in Epopeya Magazine (Argentina)
In the latest issue of Epopeya magazine (Year 4, #29), one of the most important magazines about Heavy Metal/Hard Rock of Argentina, there's a good review of the UNION shows that they gave in Buenos Aires on the past month of December and a brief interview with Bruce Kulick and John Corabi. Page 1, Page 2 -- Gabriel Ravarini

Upcoming Online UNION Interviews
UNION management contacted Kulick.net to pass along the latest upcoming Online UNION Interviews:
February 10th - 7:15 p.m. Eyada.com live on air interview with Bruce & John
February 11th - 2 p.m. (EST) in person/on air interview on WCCC in Hartford, CT
February 16th - 4:00 p.m. (PST) Prime-Choice.com
February 17th - 1:00 p.m. (PST) KNAC.COM in studio interview/acoustic songs with all band members
February 21st - 1:00 p.m. (PST) MFN Rocks Live in Studio with Bruce & John
February 23rd - 5:00 p.m. (PST) AOL chat with Bruce & John (more details forthcoming)

Z-92 Radio Interview with Bruce Kulick
I recently did a taped interview with Bruce for my radio show. It will be airing at 3am (central) on Feb 22. (release day)! I will be playing select tracks from "The Blue Room" as well. If your readers are in the Omaha, Nebraska area, it can be heard on Z-92 The Rock Station. If listening online, they can go to www.z92.com. It will last approximatly a half hour to 45 minutes(depending how many songs I sneak in). We discussed the new album, the overseas tour and the future tour. -- Jonathon Bear, Z-92 host "All Night Flight"

Bruce & John WMMS Radio Interview
"The Metal Show" on WMMS in Cleveland will interview Bruce & John this Sunday, February 6th at 10:15 EST. The interview will be available live on the internet streaming from the WMMS.com website.

UNION: The Blue Room Internet Album Premiere

Three weeks from today, on February 22nd, UNION's new album "The Blue Room" will officially be released in stores. But, UNION Asylum has a very special treat for the online fans!! UNION Asylum, in conjunction with KISS ASYLUM and Next Level Productions, is proud to announce the Official Internet Premiere of UNION's "The Blue Room" at the band's official website, UNION Asylum, http://www.unionasylum.com! Now in streaming Real Audio, 24 hours a day, 7 days a week, you can preview the entire 10 song "Blue Room" album over the internet! "The Blue Room" is unapologetic classic hard rock, written from a strong love of the Beatles, Zeppelin and Aerosmith, as well as from a vast working knowledge of '80s metal that cautions one to "Stand away from the door. Let the pros handle it." "The Blue Room" has it all, from the up-tempo, very catchy rock 'n' roll steamroller "Do Your Own Thing" to Bruce Kulick's tribute to deceased KISS drummer Eric Carr on "Dear Friend," to the classic Cheap Trick sounding track "Everything's Alright," to the angst driven, fist pounding "Who Do You Think You Are." In an upcoming issue of Metal Edge, Metal Edge editor Paul Gargano proclaims UNION's "The Blue Room" as the "perfect choice to usher rock 'n' roll into the year 2000." You've read about it, now crank up the volume on your computer and listen to it over the internet at UNION Asylum! http://www.unionasylum.com.
UNION Live On KNAC.com February 17th
UNION will be on KNAC.com on February 17th at 4pm EST for a live on air interview to discuss their new album "The Blue Room" in addition to an acoustic performance from the entire band.
UNION Tour Date News
Spitfire records contacted UNION Asylum with the latest information on the upcoming UNION dates. UNION will be at CBCB's (315 Bowery @ Bleeker (212) 982-4052 - Tix: $5.00 and available thru ticketweb.com - Doors: 7pm UNION: 7:30-8:30pm) on Wednesday February 9th. UNION will be playing Rookie's Sports Bar (21-14 Shunpike Road KMart Plaza Cromwell, CT 06416 (860) 635-1860 - Doors: 5pm UNION: 7:00-8:00pm) on Friday February 11th. And on Saturday, February 12th UNION will be at Country Pines (1660 Union Center Highway Endicott, NY 13760 (607) 754-2262). UNION will also play at the Indy KISS Expo on February 13th and the Coconut Teaser on the 24th for the Blue Room album release party. For more UNION Tour dates news make sure to check the UNION Asylum Tour Dates Page.
Copyright © Bruce Kulick 2000-1997